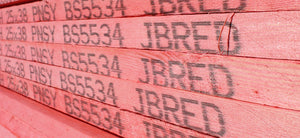 Not all graded batten is the same. It is important to check the quality of other battens on the market to ensure you are roofing to current British standards. The below graded batten checklist will help you decide if your current roofing batten is up to standard. With JB Red you have the peace of mind that it fully complies with BS 5534!
Why use Marley's JB Red battens...
The distinctive red pigment in our JB Red Battens means that on site they are easily identifiable to Local Authority Building Control, NHBC and other inspectors.


No further grading is required, saving you time and money.


Our exceptional strong and rigid JB Red Battens are available in 2 sizes 25 x 38mm and 25 x 50mm, supplied every time with consistency in width and thickness, making installation quick and easy. Marley roof battens are treated with the preservative MicroPro to protect them from attack by wood rotting fungi and insects, thereby reducing the risk of complaints at a later date. MicroPro complies with BS 8417:2011 Usage Class 2, and carries a 60-year desired service life, giving you further peace of mind.
Sold in bundles of 10 lengths
Factory graded in the UK to BS 5534
Roof battens
UKAS third party assessed by the BBA (British Board of Agrément)
Full chain of custody - FSC® or PEFC™ certified
Highly identifiable on site due to red pigment
Preservative treated to BS 8417: 2011 Usage Class 2 using MicroPro® against attack by wood rotting fungi and insect attack
SLOW GROWN,SUSTAINABLY SOURCED TIMBER
What happens at Gainsborough is only part of the story. Selecting the right timber to use for roofing battens is very important. Using our extensive network of Scandinavian mills, we source only slow-grown timber to ensure strength and durability. All of our battens are cut from kiln dried sideboards as they are less likely to distort. All Marley timbers are legally and sustainably sourced in accordance with the EU timber regulations, supplied with either FSC® or PEFC Certification. As members of the Timber Trade Federation, Marley supports the Responsible Purchasing Scheme