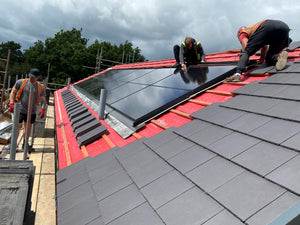 Select the date and the number of delegates you would like to attend the course.
The rising demand for solar panels on UK properties means there has never been a better time to include solar as part of your roofing services. At Marley, we are training roofers on how to install our roof integrated Marley SolarTile®, so that they can make the most of the opportunity that installing solar panels provides.
Our solar installation training course is a 1 day course held in the training centre in Burton upon Trent.
Arrive at 09:30am for the course which runs 10:00am - 14:30pm. Lunch and refreshments will be provided and a certificate of attendance will be issued following completion of the course.
Book your place to learn:


Solar Array initial design/use of Marley configurator

How to set out and centre a rectangular array

How to test solar panels before installing

How to make safe electrical connections

How to install the Marley SolarTile® system

Considerations for stringing an array

How to install roof tiles around the Marley SolarTile®

system